Do our core values still speak to the way we are now working? What did the lockdown teach us; what do we want to take with us and what do we want to leave behind? Our business has expanded rapidly in the past 18 months across London, Glasgow, Cologne, Amsterdam and New York - maintaining our identity and staying true to our purpose has never felt more important as we continue to grow. It has been a time of exploration, reflection, and initiation.
"Creating a new conversation around how recruitment can be more than billings has helped us place a focus on the fact that everyone is very human beneath the business of numbers."
Tom, 24, Marketing Executive, London
Reflecting on our purpose and beliefs was an important part of integrating back into the office following lockdown. The first step was to run a series of interactive workshops with all our people across all areas of the business to gauge how they felt. Exploring beliefs and experiences, and scrutinising stereotypes and biases gave us insight into how we could best move forward as a business, with the emphasis on 'move'. Taking action is part of our DNA, whether it's expanding into new regions or leaving no stone unturned in the pursuit of the perfect fit for our candidates and clients, our people are motivated, energised and curious. An updated values proposition needed to reflect our youthful demographic, and speak to the indomitable spirit, drive and energy that got us through lockdown and out the other side fighting fit and focused on the future.
"When I joined, the focus of success was on numbers, and that is still our key focus, but this year there has been a shift towards our people. Success looks a little different here now."
Isobel, 24, Senior Consultant, Amsterdam & London
The workshops led to the creation of Ignite – Guide – Achieve, a values proposition that gives our people countless opportunities to embody their beliefs and motivators daily. By focusing on values as actions, we walk the talk and get to test out the validity of our words and actions. It's an evolving process, but the impact on the community has been immediate, speaking to the nature of our young, dynamic workforce as it does.
To embed these new values, we knew they needed an active framework in which to live and grow, so we created a community of practice, led by a group of values ambassadors; curious and courageous people with the intrinsic motivation to make a difference, drawn together from our London, Glasgow and New York offices.
Their work is mapping a process for others to follow:
Explore
Setting-up a series of quarterly discussion groups for staff across all areas of the business, and from all backgrounds and experiences, has fostered inclusivity, collaboration and insight, helping to seed meaningful, lasting change.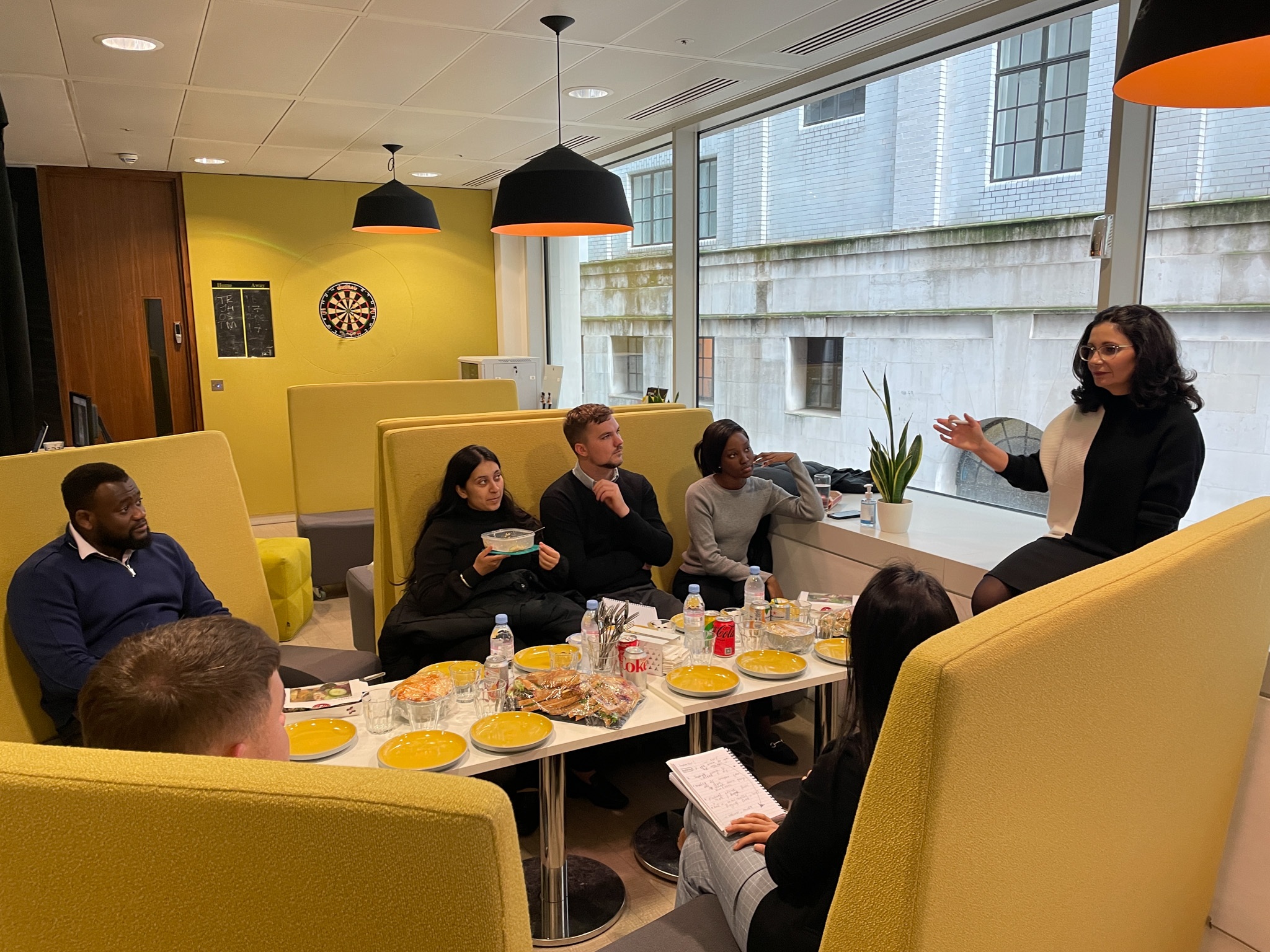 "Our focus is on building an environment of togetherness. Taking the time to learn from one another in a safe, open environment, seeking feedback, and understanding the different approaches that people take, is so helpful in such a fast-paced industry."
Dorsa, 22, Consultant & Values Ambassador, London
Regularly interacting with peers from different offices has been hugely beneficial. I have been motivated to push others in my office to start new conversations. Taking part in the Round Table discussions has meant I have learnt from my fellow ambassadors about approach and attitude to work, and it has definitely brought the different offices closer together."
Laura, 25, Consultant & Values Ambassador, Glasgow
Activate
With so many ideas generated during the Round Table discussions, it was clear we needed a focused plan of action to give people the chance to test their ideas in the office. Creating a monthly Values Champions Competition has shone a light on the actions that have made the biggest impact, not to mention creating a positive buzz around the offices by spotlighting the skills and achievements that can often go unnoticed in a such a fast-paced, sales-focused environment.
"So much happens around the office that staff are not aware of - actions outside of work – this competition has helped bridge that gap… and the incentives are not bad either!"
Jeremiah, 25, Lead Python Consultant, London
Reflect
Research has shown that exposure to complex problems enhances critical thinking, and we can get on board with that thinking. Our values work is rooted in the habit of learning. Our Values Ambassadors created and ran The Empiric Insight Sessions - a video insight series hosted by inspirational staff from across the business. Those who have learnt by doing share their experiences, wisdom and best practice tips in short videos that roll on screens in rotation throughout certain days of the week, uplifting and inspiring colleagues.
"We wanted to pick the brains of those who have gone before us; learn from their success, particularly the skills that they forged during challenging times. Creating short, informal but highly informative vlogs helped us transcend physical boundaries and open-up new conversations.
Neisa, 46, Principal Consultant, New York
In the beginning, the focus was on a learning tool for new starters, but we discovered that people across the whole company found the videos hugely beneficial, from one-year consultants all the way up to directors."
Ben, 23, Consultant, London
Evolve
The journey is more important than the destination… and who you travel with is even more important. A cliché, perhaps, but certainly a truth we come back to time and again. We are fortunate that our people are bold thinkers with the courage to act, they understand that our culture is theirs to take care of, and providing opportunities to shape the daily norms and habits that will ignite the way we work ensures meaningful, authentic growth. Fortified with healthy doses of doubt and uncertainty, and armed with awkward questions, our people continue to push the boundaries of what our culture looks, sounds and feels like, and that brings its own rewards.
"I overcame initial nerves and self-doubt to push out of my comfort zone. Over time, our ideas have turned into actions that impact our culture for the better, I have come to recognise that if you have something to say, people here will listen and help."
Linda, 41, Values Ambassador & Care & Compliance Officer, London
Grow
We're looking to amplify the values ambassador's work across the journey of the business. So far, the project has highlighted the fact that our people possess a rich and diverse skillset. A familiar question we hear is: what more can I learn from my colleagues? We are considering monthly learning sessions and a team-based house system that will streamline our CSR initiatives and offer more opportunities for designated cultural activities across the year.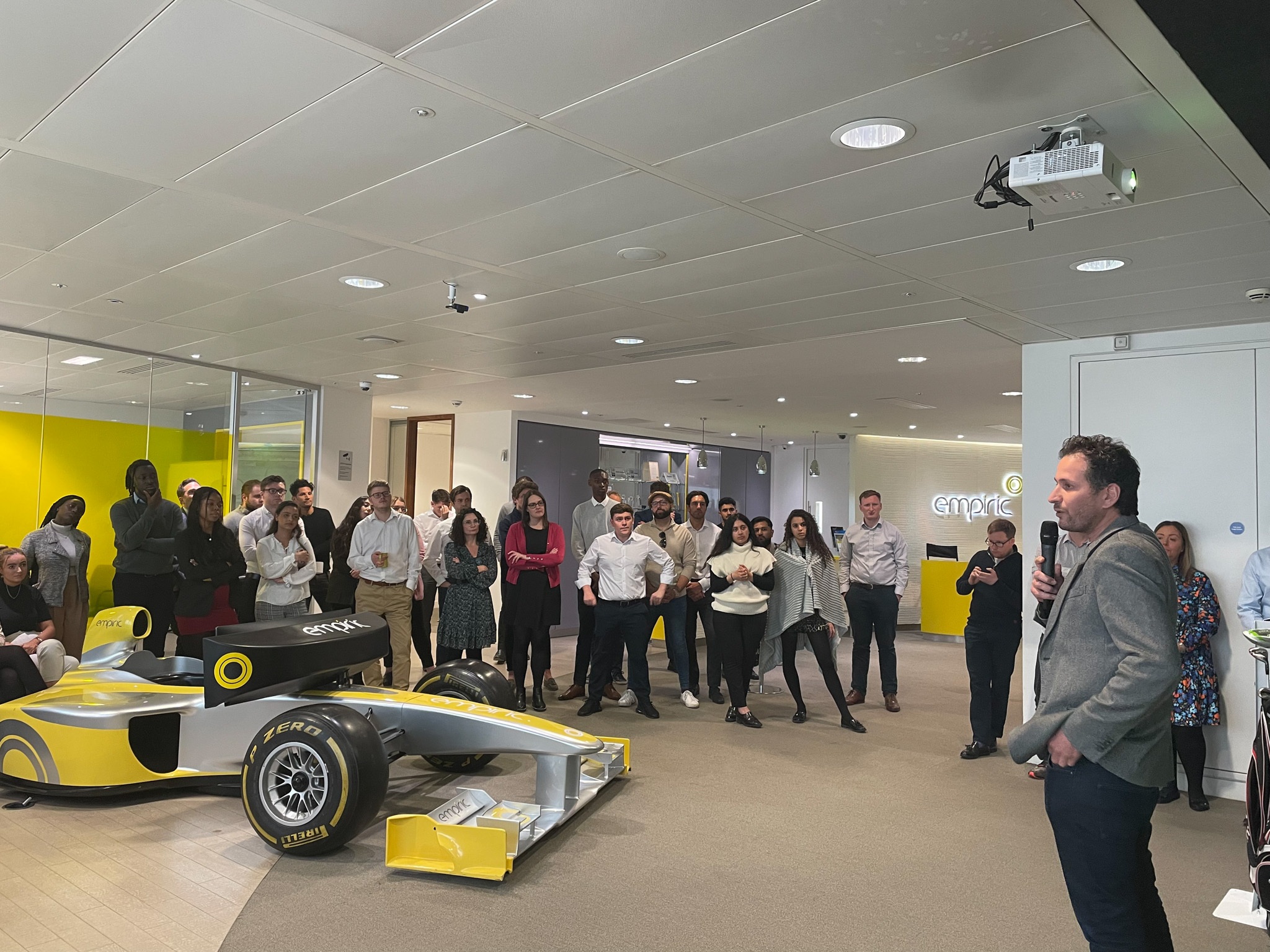 Staying true to our cultural process ensures we facilitate deeper understanding and strengthen connections across all areas of the business. It's also a guide for those difficult times when we find ourselves off the edge of the map, exploring new and unfamiliar territory… and we push out there a lot as we seek to discover more about ourselves and our potential; it's the only way to learn to do the things that will take us to the next level.
Are you ready to take your career to the next level? Don't miss this chance to join our amazing team where you can grow your skills, work on exciting projects and make a difference. Check out our Careers page now and discover the wonderful opportunities waiting for you at Empiric: http://empiric.com/careers